10 reviews
3 out of 5 stars
based on 10 ratings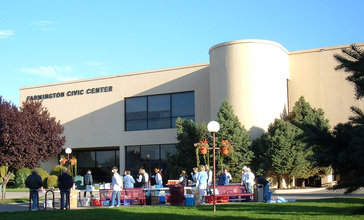 Farmington (Navajo: Tóta' ) is a city in San Juan County in the U.S. state of New Mexico. As of the 2013 population estimate from the United States Census Bureau the city had a total population of 45,426 people. Farmington (and surrounding San Juan County) makes up one of the four Metropolitan Statistical Areas (MSA's) in New Mexico. The U.S. Census Bureau's population estimate in 2011 for Farmington was about 45,256. Farmington is located at the junction of the San Juan River, the Animas River, and the La Plata River, and is located on the Colorado Plateau. Farmington is the largest city of San Juan County, one of the geographically largest counties in the United States covering 5,538 square miles (14,340 km2). The county seat and the other city in San Juan County is Aztec. Farmington serves as the commercial hub for most of northwestern New Mexico and the Four Corners region of four states. Farmington lies at or near the junction of three important highways: U.S. Highway 550, U.S. Highway 64, and New Mexico Highway 371. It is on the Trails of the Ancients Byway, one of the designated New Mexico Scenic Byways. The primary industries of San Juan County are the production of petroleum, natural gas, and coal. Major coal mines are the Navajo and San Juan mines, operated by BHP Billiton 15 to 19 miles (24 to 31 km) southwest of Farmington. The coal mined from the Navajo and San Juan mines is used entirely for fuel for the nearby Four Corners Generating Station and San Juan Power Plant to produce electric power. Farmington is known across New Mexico and throughout the southwest for its baseball tournaments, and Ricketts Park is the home of the Connie Mack World Series. Farmington High School claimed the AAAA Baseball State Championship four years in a row from 2005 through 2008. Piedra Vista High School in Farmington also claimed the AAAA Baseball State Championship in 2010 and 2011.
Managed by the Age Friendly Foundation
Lot of older citizens are relied upon
It depends on which area you get around by others like for example not others would have a good day or perfect mood.
The community is good and people are friendly if you mind your own business.
Senior Living Communities
Explore Home Care Options Near You
Find a Financial Professional Near You
Taxes