0 review
2 out of 5 stars
based on 0 ratings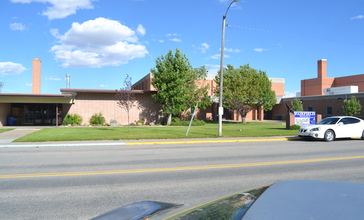 Fairfield is a town in Teton County, Montana, United States. The population was 708 at the 2010 census. Fairfield is the self-proclaimed "Malting Barley Capital of the World" with 83,000 acres (336 km2) of irrigated cropland and 56,000 acres (227 km2) of non-irrigated cropland in production for the purpose of raising malt barley in the vicinity. Fairfield began as a station on the Milwaukee and is between Great Falls and Choteau and near Freezeout Lake, (from Cheney's Names on the Face of Montana, Mountain Press Publishing Company) where as many as 300,000 snow geese and 10,000 tundra swans gather in March. Fairfield serves as a trading center for the farmers of Greenfield Bench. Irrigation now assures crops, but in earlier days a dry summer made the grass scarce and the name "Freeze-out Bench" was applied to the area. "Greenfield Bench" and Fairfield are now descriptive of the hay and grain fields surrounding the town. (from Cheney's Names on the Face of Montana, Mountain Press Publishing Company) Even though the federal government had opened this area of Montana to homesteading in 1862, not until 1909 did settlers really come into the Fairfield area when Congress liberalized this act allowing the settler 320 acres of free land instead of 160. It became apparent, however, that the small homesteads, 160 or 320 acres, made little sense in the vast and dry landscape of Montana. After the Bureau of Reclamation conducted a survey that showed a dam could be built in the Sun River Canyon and water for irrigation in Fairfield area would be feasible were many more settlers attracted to Fairfield. The Gibson Dam was completed in 1929. Today, Greenfield Irrigation District delivers water from Gibson Dam to approximately 83,000 acres surrounding this community. Fairfield is the "Malting Barley Capital of the World", a trade center for the farming community as well as being home to Busch Agricultural Resources, 3 Rivers Telephone Cooperative and Sun River Electric Cooperative.
Managed by the Age Friendly Foundation
Explore Home Care Options Near You
Consider the benefits of an in-home caregiver. Care can range from 1 hour a day, to a few hours a week, to full time. Connect to a trusted provider today.
Find a Financial Professional Near You
With 9,000 financial professionals available across the nation and 4,500 on MassMutual.com, MassMutual is committed to helping you secure your future.
Taxes
C
How did Montana earn the grade of C? We examined the state taxes based on how age friendly they are. Montana has a state sales tax of 0.00%. Of particular interest is that Montana does have taxes on social security. There are no estate taxes. There are no taxes imposed on inheritance. Montana has an effective property tax rate of 0.85%. Weighing these taxes and other taxes most likely to impact the aging population is how Montana earned its state tax grade of C.
Learn more about taxes in Montana