Coeur D Alene

Coeur D Alene
Idaho
1 review
3 out of 5 stars
based on 2 ratings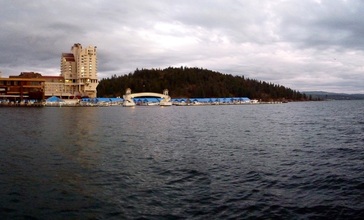 Coeur d'Alene ( ( listen) KOR də-LAYN) is the largest city and county seat of Kootenai County, Idaho, United States. It is the principal city of the Coeur d'Alene Metropolitan Statistical Area. As of the 2010 census, the population of Coeur d'Alene was 44,137. The city is a satellite city of Spokane, which is located about 30 miles (48 km) to the west, in the state of Washington. The two cities are the key components of the Spokane-Coeur d'Alene Combined Statistical Area, of which Coeur d'Alene is the third-largest city (after Spokane and its largest suburb, Spokane Valley). Coeur d'Alene is the largest city in northern Idaho Panhandle. The city is situated on the north shore of Lake Coeur d'Alene, 25 miles (40 km) in length. Locally, Coeur d'Alene is known as the "Lake City", or simply called by its initials: "CDA". The city of Coeur d'Alene has grown significantly in recent years, in part because of a substantial increase in tourism, encouraged by several resorts in the area. Broadcaster and media figure Barbara Walters called the city "a little slice of Heaven" and included it in her list of most fascinating places to visit. On November 28, 2007, Good Morning America broadcast the city's Christmas lighting ceremony because its display is among the largest in the United States. The Coeur d'Alene Resort and a 165 acre natural area called Tubbs Hill, Coeur d'Alene, Idaho take up a prominent portion of the city's downtown. It is also near two major ski resorts: Silver Mountain Resort to the east in Kellogg, and Schweitzer Mountain Ski Resort to the north in Sandpoint. The city is named after the Coeur d'Alene People, a federally recognized tribe of Native Americans who lived along the rivers and lakes of the region, in a territory of 5,500 square miles (14,000 km2) extending into Washington and Montana. They were first encountered by French fur traders in the late 18th and early 19th century, who referred to them as Cœur d'Alêne, meaning "heart of an awl", reflecting their experience of the tribal traders as tough businessmen, "sharp-hearted" or "shrewd".
Managed by the Age Friendly Foundation
I would say that Coeur d Alene Id is not as age friendly as I would like it to be. Because of snow and ice, it makes it very unfriendly for seniors. They can slip and fall. Also, most store owners on the busier streets do not shovel the snow so you have to walk on street to get where you are going.
Explore Home Care Options Near You
Consider the benefits of an in-home caregiver. Care can range from 1 hour a day, to a few hours a week, to full time. Connect to a trusted provider today.
Find a Financial Professional Near You
With 9,000 financial professionals available across the nation and 4,500 on MassMutual.com, MassMutual is committed to helping you secure your future.
Taxes
B
How did Idaho earn the grade of B? We examined the state taxes based on how age friendly they are. Idaho has a state sales tax of 6.00%. Of particular interest is that Idaho does not have taxes on social security. There are no estate taxes. There are no taxes imposed on inheritance. Idaho has an effective property tax rate of 0.76%. Weighing these taxes and other taxes most likely to impact the aging population is how Idaho earned its state tax grade of B.
Learn more about taxes in Idaho