14 reviews
4 out of 5 stars
based on 14 ratings
Member of the World Health Organization Global Network of Age Friendly Cities and Communities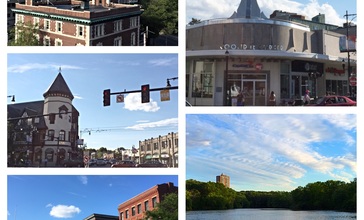 Brookline is a town in Norfolk County, Massachusetts, in the United States, and is a part of Greater Boston. Brookline borders six of Boston's neighborhoods: Brighton, Allston, Fenway–Kenmore, Mission Hill, Jamaica Plain, and West Roxbury. The city of Newton lies to the west of Brookline. The Brookline Council on Aging is a town agency responsible for planning, coordinating and providing comprehensive services for Brookline residents age 60 and over. We work with other town agencies and community service providers to enhance the quality of life for our elders.
Assistance Programs: Social workers and volunteers provide help with accessing Fuel Assistance, SNAP, AARP Tax Preparation and Information and Referral. They also provide legal assistance (BLAB), assistance with identifying Medicare supplement options (SHINE), Job Search Support with individual appointments and workshops (REAP), Home and Escort Linkage Program (HELP), Equipment Loan Program (ELF), Real Estate Tax Workoff Program (TAP), Discount Taxi Coupon Program (BETS), the Elder Resource Guide, and the Caregivers' Respite Program.
Exercise and Fitness: Our on-site fully equipped, supervised Fitness Center provides – Mat & Chair Yoga, Fexibility, Resistance Training & Balance and Aging Backwards as well as individual sessions. In addition, Tuesday Dance Party, Zumba Gold, Tai Chi, Solemates Walking Club, Ping Pong, Strength Training for Seniors, Senior Stretch, Exercise for Health & Rejuvenation and Arthritis Exercise provide exercise/fitness options for every taste and ability.

Support: Various Support Groups provided by social workers and volunteers throughout the year include: Bereavement Support, Job Search Support, Depression Support, Grandparent Alienation Support, Retired Men's Club, Alzheimer's Caregiver Support, and the Low Vision Support groups.
Contacts
333 Washington Street
Brookline, MA 02445
Phone: 617-730-2000
Managed by the Age Friendly Foundation
Brookline is filled with a lot of friendly people. From teachers at public schools to transportation and people on the street.
The city is age unfriendly . It is a mixed community with young and aged people. No engagement, very untitled. I think they are living their own world.
Good community, very friendly
Park and recreation around the city
Senior Living Communities
Explore Home Care Options Near You
Find a Financial Professional Near You
Taxes