10 reviews
3 out of 5 stars
based on 10 ratings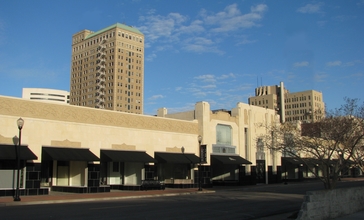 Beaumont ( BOH-mont) is a city in and the county seat of Jefferson County, Texas in the United States, within the Beaumont–Port Arthur Metropolitan Statistical Area. Located in Southeast Texas on the Neches River about 90 mi (140 km) east of Houston (city center to city center), Beaumont had a population of 118,296 at the time of the 2010 census, making it the twenty-fourth-most populous city in the state of Texas. Beaumont was founded as a town in 1835. The early European-American settlement had an economy based on the development of lumber, farming, and port industries. In 1892, Joseph Eloi Broussard opened the first commercially successful rice mill in the state, stimulating development of rice farming in the area; he also started an irrigation company (since 1933 established as the Lower Neches Valley Authority) to support rice culture. Rice became an important commodity crop in Texas, and is now cultivated in 23 counties. A big change occurred in 1901 with the Spindletop gusher, which demonstrated the potential of the huge oil field. With Spindletop, several energy companies developed in Beaumont, and some continue. The area rapidly developed as one of the major petro-chemical refining areas in the country. Along with Port Arthur and Orange, Beaumont forms the Golden Triangle, a major industrial area on the Texas Gulf Coast. Beaumont is home of Lamar University, a national Carnegie Doctoral Research university with 14,966 students, including undergraduates and post graduates. Over the years, several corporations have been based in this city, including Gulf States Utilities which had its headquarters in Beaumont until its takeover by Entergy Corporation in 1993. GSU's Edison Plaza headquarters is still the tallest building in Beaumont (as of 2017).
Managed by the Age Friendly Foundation
small town everyone here works hard and are willing to make different moves in our lives such as small businesses.
I BELIEVE IT IS FRIENDLY. SOMEONE IS ALWAYS GIVING A HELPING HAND TO SOMEONE IN NEED
I just love to help the old people because I have a mother to
It was established as a retirement community. It has a Baptist Church inside the gated community and a Methodist Church adjacent to it.
Everyone says hello are ask is everything ok stuff like that
Senior Living Communities
Explore Home Care Options Near You
Find a Financial Professional Near You
Taxes