17 reviews
4 out of 5 stars
based on 17 ratings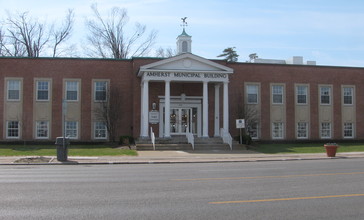 Amherst ( (listen)) is a town in Erie County, New York, United States. Amherst is the most populated town in upstate New York, and an inner ring suburb of Buffalo. As of the 2010 census, the town had a total population of 122,366. This represents an increase of 5.0% from the 2000 census.The largest and most populous suburb of Buffalo, New York, the town of Amherst encompasses the village of Williamsville as well as the hamlets of Eggertsville, Getzville, Snyder, Swormville, and East Amherst. The town is in the northern part of the county and borders a section of the Erie Canal. Most of the eastern side of the town is referred to as Williamsville, New York due to sharing the zip code (Buffalo, NY 14221) with the village and closeness. Amherst is home to the north campus of the University at Buffalo, the graduate campus of Medaille College, a satellite campus of Bryant & Stratton College, and Daemen College.
Managed by the Age Friendly Foundation
Amherst is a very small town. All the kids go to school together. Very nice people. Lots of great stores around.
Very social people small environment
The neighborhood is fabulous they always have things for elderly to do. It has alot of stores in the area for shopping.
It's a quite safe environment
Many people lots of traffic
Senior Living Communities
Explore Home Care Options Near You
Find a Financial Professional Near You
Taxes